Introduction to the project
How to design a clock project in c++ ? write a program that will take quiz related to any topic in given time.
Show a clock with the help of graphics library
Show the quiz questions related to any topic like C++ language.
Take user's input as the answer of the question.
Check whether the answer is correct or not.
Matching the answer and print result.
Clock stops and quiz ends automatically after certain time.
C++ code for clock designing project
Code
#include<graphics.h>
#include<cmath>
#include<ctime>
#include <iostream>
#define PI 3.1415
using namespace std;
int main(){
int pressed=0;
tm *ltm ;
int clock;
int result;
clock=initwindow(500,800,"Clock");
setbkcolor(15);
setcolor(0);
settextstyle(3, 0, 1);
cleardevice();
int page=0;
int ss=0;
int ans;
int loo=1;
int los=0;
while(loo==1){
setactivepage(page);
setvisualpage(1-page);
if(pressed==0){
cleardevice();
}
circle(250,250,200);
circle(250,250,5);
outtextxy(250+180*sin(PI/6)-5, 250-180*cos(PI/6)-5, "1");
outtextxy(250+180*sin(2*PI/6)-5, 250-180*cos(2*PI/6)-5, "2");
outtextxy(250+180*sin(3*PI/6)-5, 250-180*cos(3*PI/6)-5, "3");
outtextxy(250+180*sin(4*PI/6)-5, 250-180*cos(4*PI/6)-5, "4");
outtextxy(250+180*sin(5*PI/6)-5, 250-180*cos(5*PI/6)-5, "5");
outtextxy(250+180*sin(6*PI/6)-5, 250-180*cos(6*PI/6)-5, "6");
outtextxy(250+180*sin(7*PI/6)-5, 250-180*cos(7*PI/6)-5, "7");
outtextxy(250+180*sin(8*PI/6)-5, 250-180*cos(8*PI/6)-5, "8");
outtextxy(250+180*sin(9*PI/6)-5, 250-180*cos(9*PI/6)-5, "9");
outtextxy(250+180*sin(10*PI/6)-5, 250-180*cos(10*PI/6)-5, "10");
outtextxy(250+180*sin(11*PI/6)-5, 250-180*cos(11*PI/6)-5, "11");
outtextxy(250+180*sin(12*PI/6)-5, 250-180*cos(12*PI/6)-5, "12");
if(pressed==0){
time_t now = time(0);
ltm = localtime(&now);
system("cls");
}
// Hour Hand
setcolor(RED);
line(250,250,250+150*sin(ltm->tm_hour * PI/6),250-150*cos(ltm->tm_hour * PI/6));
// Minute Hand
setcolor(GREEN);
line(250,250,250+190*sin(ltm->tm_min * PI/30),250-190*cos(ltm->tm_min * PI/30));
// Secod Hand
setcolor(BLUE);
line(250,250,250+150*sin(ltm->tm_sec * PI/30),250-150*cos(ltm->tm_sec * PI/30));
outtextxy(10,500,"Who is the creator of the C++ language?");
outtextxy(10,560,"A. Dennis Ritchie");
outtextxy(10,590,"B. Ken Thompson");
outtextxy(10,620,"C. Bjarne Stroustrup");
outtextxy(10,650,"D. Brian Kernighan");
if(GetAsyncKeyState(0x41)){
pressed=1;
cleardevice();
setbkcolor(3);
outtextxy(10,680,"Wrong Answer");
}
if(GetAsyncKeyState(0x42)){
pressed=1;
cleardevice();
setbkcolor(3);
outtextxy(10,680,"Wrong Answer");
}
if(GetAsyncKeyState(0x43)){
pressed=1;
cleardevice();
setbkcolor(3);
outtextxy(10,680,"Answer is correct");
}
if(GetAsyncKeyState(0x44)){
pressed=1;
cleardevice();
setbkcolor(3);
outtextxy(10,680,"Answer is false");
}
if(pressed==0){
ss=ss+1;
if(ss>350){
pressed=1;
outtextxy(10,680,"Time up");
}
}
delay(10);
page = 1-page;
}
getch();
closegraph();
return 0;
}
Flow chart for project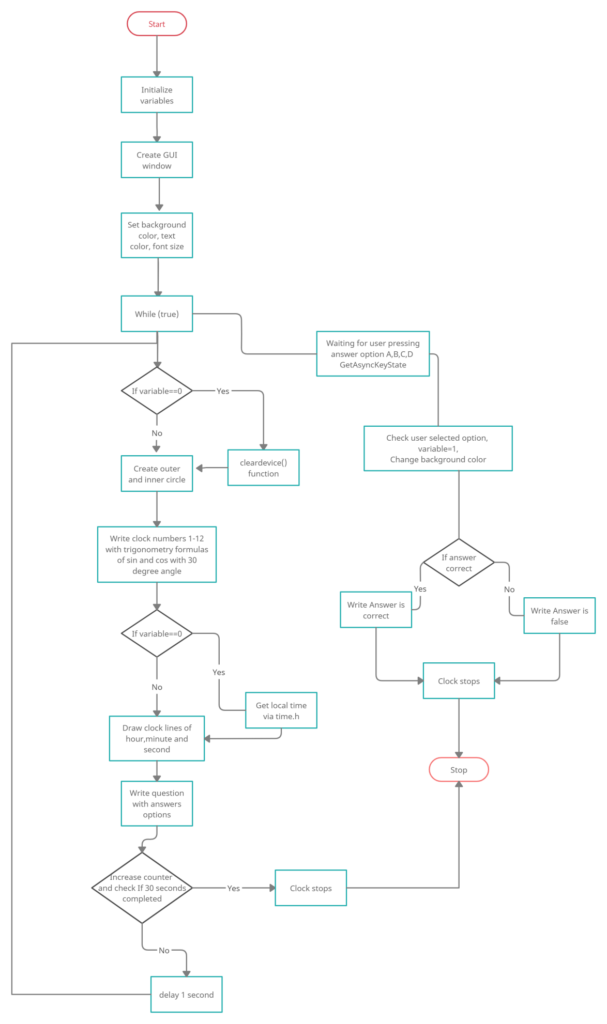 Output of the project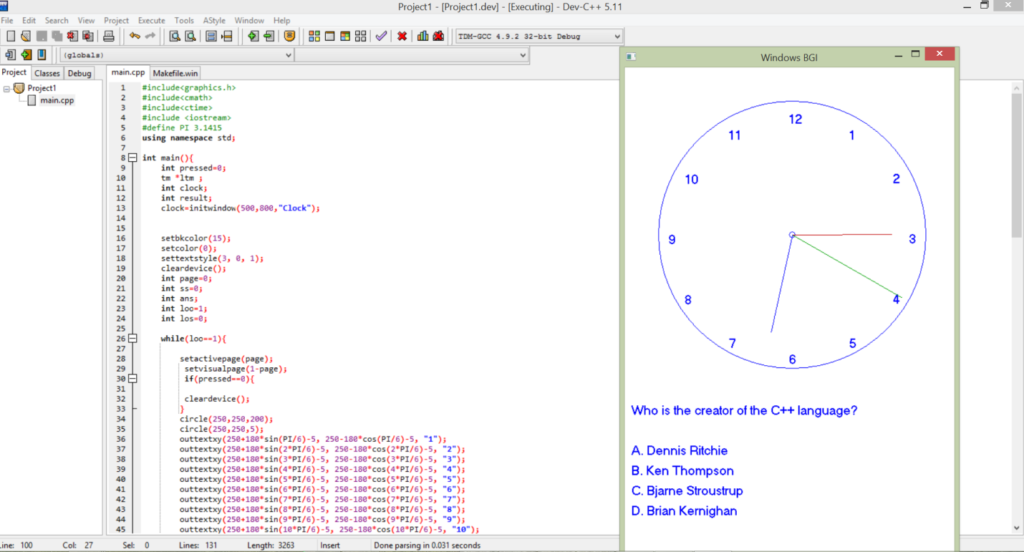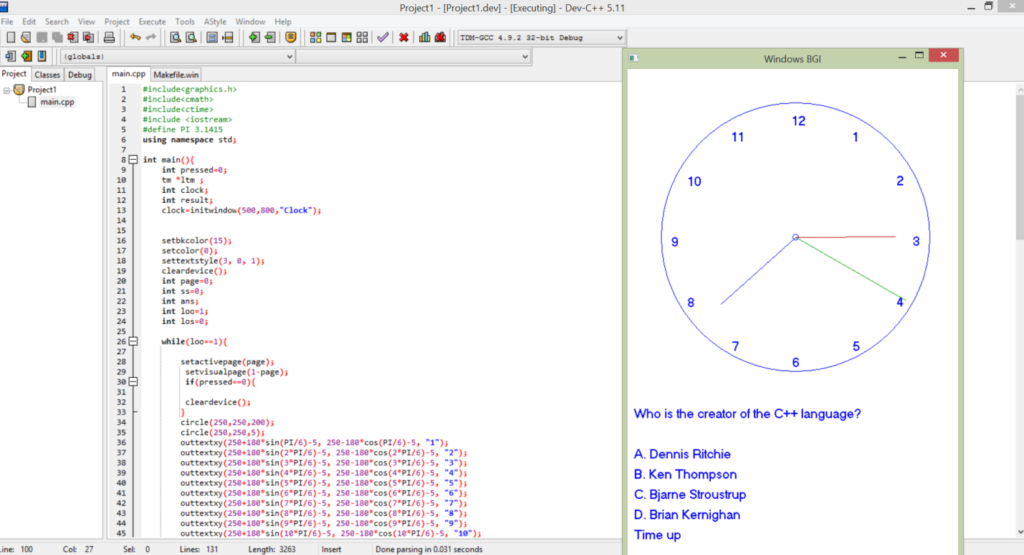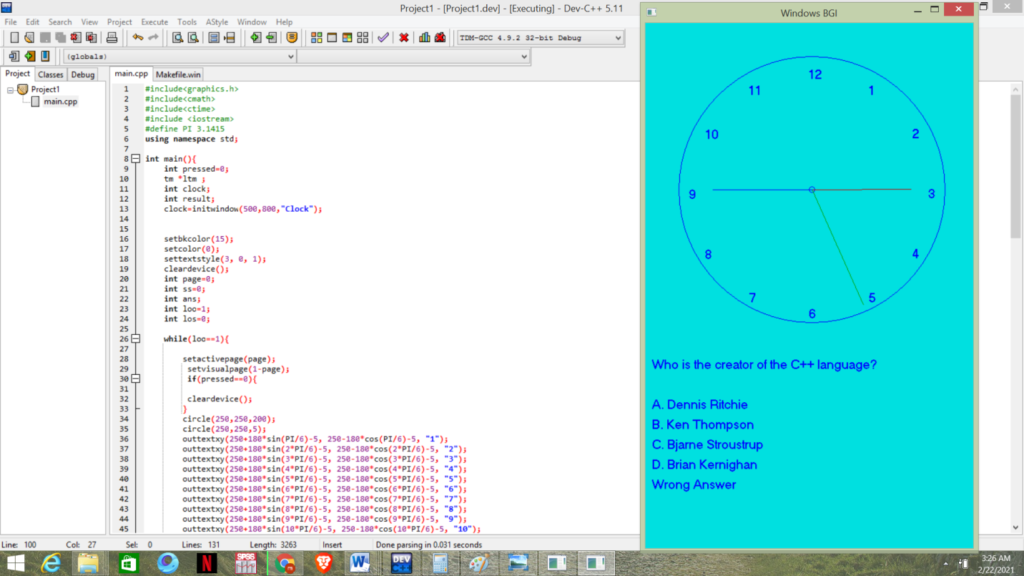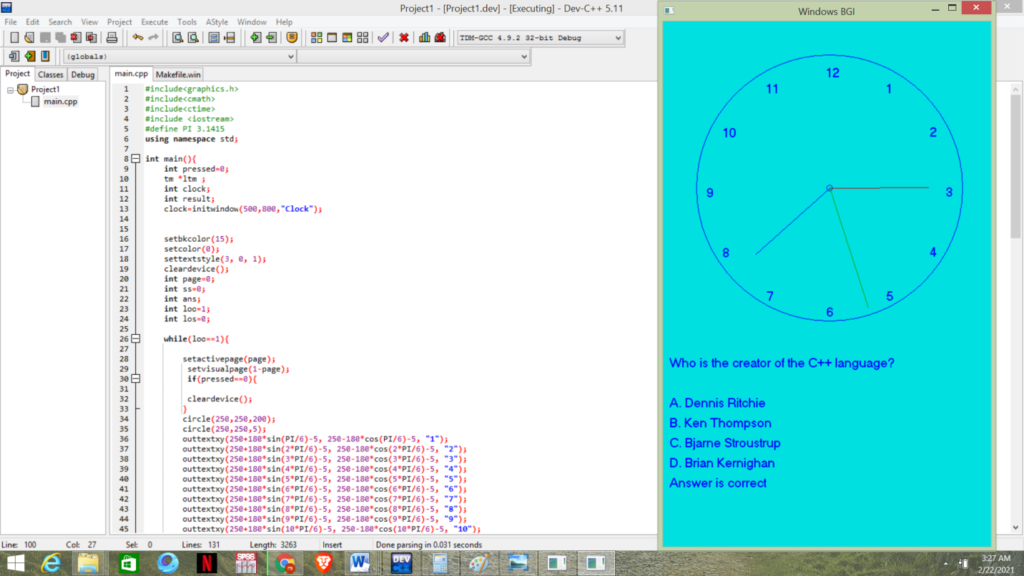 Also read here for more projects
https://eevibes.com/engineering-projects/