Introduction to Bluetooth
In this article, I have given the overview of different applications of Bluetooth in Practical Life . The concept of Bluetooth started emerging in 1994 when Ericsson started thinking of replacing the wires connecting phones, mobiles and desktop computers with some wireless links. The first technical specification of Bluetooth arrived in 1999. Devices communicate wirelessly over short distances by using Bluetooth that is usually less than 30ft.
In many ways, the word Bluetooth is like the word internet because it encompasses a wide range of subjects. A lot of on-the-wire stuff is defined by Bluetooth such as the radio frequencies and modulation and demodulations techniques. It also defines how to transmit between two devices.
Overview of Bluetooth Applications
As the concept of wireless transmission started evolving with data rates of around 100kb/s to  500 kilo bits per seconds, various usage models were created. Let's have a look of brief applications of Bluetooth.
Three-in-One Phone
Initially telephones were introduced as a wired device which was connected with a cable and a central office. Now this wired arrangement of phones is called Plain old telephone Service (POTS). In such scenarios a person had to first locate the phone and then he needed to call the other person. In response to which, there was the probability that other person may or may not be around the phone.
With the advancement in technology and advent of cellular phone, it is always easy to carry the phone with you and dial the desired number. Also there is a high probability that the other person will pick up the call or he/she must be around the phone.
The Bluetooth three-in-one phone envisions one phone that can operate with one (non-Bluetooth) cellular system as a cordless phone through a Bluetooth link to a nearby base station connected to POTS or as a walkie-talkie to another 3-in-1 phone.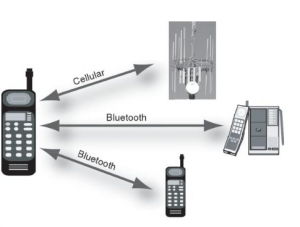 This configuration also makes possible the assignment of single phone number to each individual user. Hence there will be seamless transfer between the cellular and cordless phone links.
Ultimate Headset
That is really a remarkable achievement by the Bluetooth developers. Since it has made life quite easy. Everyone is well familiar with the problem of carrying large headphones with a wire connection. But thanks to Bluetooth, airphones with Bluetooth has replaced the wired headphones. We can move around easily while being connected to our device.
Specially while driving the car, you can simply connect these headphones and put the cell phone down thus having no risk of using mobile while driving, Of course, they are not merely limited to cell phone but to any compatible device that you want to connect, like  your laptops, you car music station/radio etc.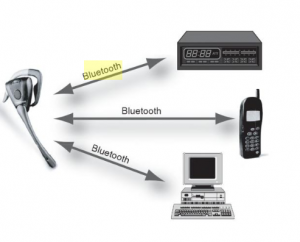 Internet Bridge
One way to access the internet was to connect the laptop computer connected via cable to a cellular phone which was then needed to call the internet service providers (ISP) dial-up number.
In Bluetooth internet bridge model, cable is replaced by a wireless link as shown in the figure below. The link must be capable to pass AT commands and also it must be capable of two way communication.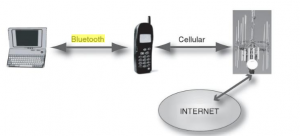 Object Push and File Transfer
Another useful application of Bluetooth is the object push and file transfer. It has become quite easy to share documents, songs, contact numbers, business cards and many more via a Bluetooth.  The sender and the retriever need to agree before sharing the files. These operations are called the push and pull. In push process, the initiator sends the file while in pull operation, the retriever retrieves the file.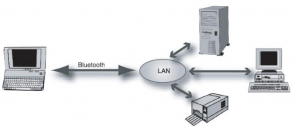 Bluetooth can replace a wired  or infrared link for transferring files between the devices as shown in the figure below.