what is a capacitor?
what is a capacitor? discuss the properties of a capacitor. Another name for the capacitor is the condenser which is a two terminal electric component that stores energy in the form of electric field. Basically a capacitor is constructed using two metallic sheets where a dielectric material is placed in between them. The dielectric can be oil, air, or any non conducting material.
How does a capacitor work?
As the capacitor is constructed using two metallic plates connected parallel and a dielectric is present between them. These two plates do not touch physically. When are at rest, there are equal no. of electrons present on both of them as shown below.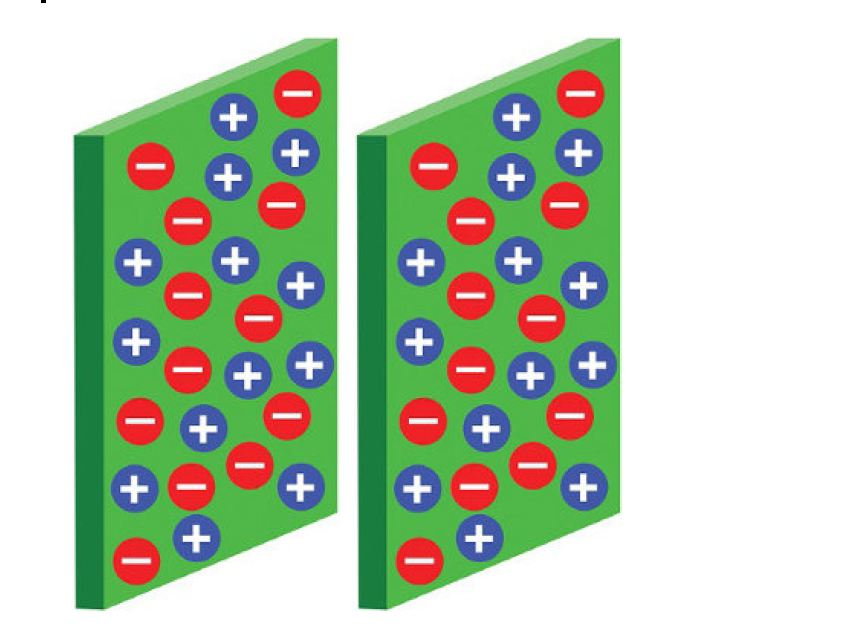 When a battery is connected with these two plates the an electric field is established between them as can be seen in the following figure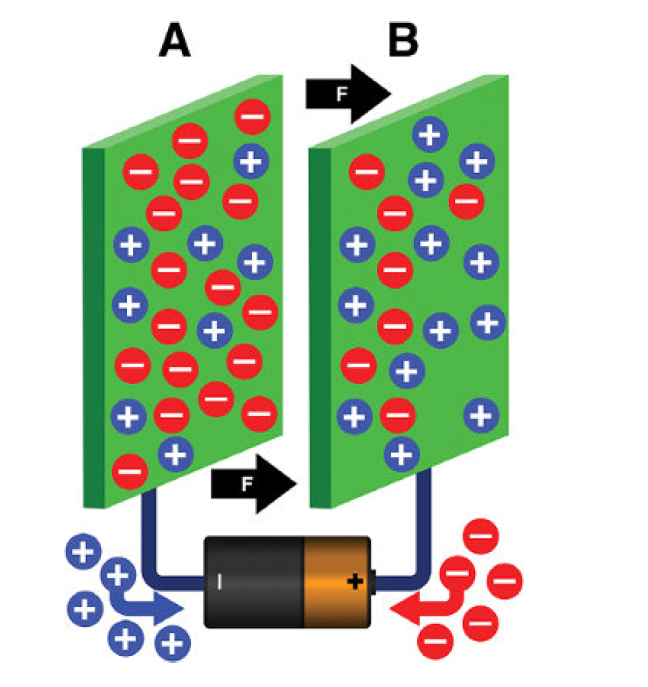 The plate which is connected to the negative terminal of the battery will accumulate negative charges on it while the plate which is connected to the positive terminal of the battery will accumulate positive charges on it. The negative charges accumulated on the negative plate will push or repel the electrons on the opposite plate thus causing them to move towards the positive terminal of the battery.
At this point it may seem that current is flowing. But the truth is that the electric field produced by electrons of plate A causes the electrons to move from plate B to the positive terminal of the battery. The electrons do not cross through the plates.
As plate A receives more electrons, it will saturate and increasing repulsion force develops to prevent more electrons from arriving at plate A. The force between plates stops increasing and can not remove more electrons thus stopping the flow of current.

What is a dielectric?
The sort of capacitor we are analyzing so far is made out of two metallic plates isolated via air. Air is the dielectric. We realize that air is certifiably not an awesome conductor. Truth be told, air is a protector. What makes a material a decent encasing is having not many free electrons. Electrons are charge carriers. Few free electrons make it difficult to lead power, since all accessible electrons are held set up by the atomic solid power, making exceptionally difficult for them to move. A ton of energy would be needed to take these electrons from their positions and make them stream. In this manner, we presume that given sufficient energy a separator can be changed into a conductor.
Air, for instance, is an encasing and a lightning is an illustration of how current can course through an encasing if a titanic energy is given. Air protection is around 3 million volts for every meter.
A unity called permittivity, estimated in Farads per meter (F/m) and alluded by the image εr or κ, signifies how much the particles of a material go against an outer electric field. A subsequent solidarity called relative permittivity, otherwise called dielectric consistent, shows how this permittivity identifies with the permittivity of the vacuum. No current will stream across the dielectric until the electric field is sufficient to break it. Provided that this is true, little "lightnings" or flashes will fly across the plates and current will stream. This is definitely not an ideal impact and will make harm the capacitor.
The voltage at which the dielectric breaks is known as the breakdown voltage. In actuality, capacitors that can work with high voltages are required and air isn't sufficient encasing for these cases. Along these lines, new dielectrics and development techniques must be created.
Also read here
https://eevibes.com/electronics/electronic-circuits/what-is-an-ideal-capacitor/