Before answering to this question how to create Kahoot game, lets first learn what is kahoot? It is basically an evaluation tool that helps in learning and evaluation process. It can be helpful for conducting exams, assignments, quizzes and homework.
So it is an application game and has two different websites addresses: one for learners (https://kahoot.com/schools/) and one for teachers (https://kahoot.com). It is freely accessible and its all features can be used free of cost. Multiple assessments can be conducted through it. Internet connection is required for playing kahoot games.
Many schools and educational based institutes are using this game-based learning platform. This game gives you access via web or kahoot app to multiple user generated quizzes.
Kahoot makes learning a fun! Good point is students do not get bored and understand the learning material. It keeps the students busy with content in a fun way. There are so many positive impacts of Kahoot on students learning like they are more focused, more comfortable and more cooperative and their motivation to learn more is improved.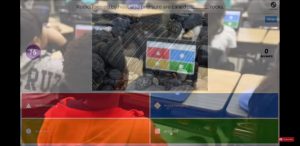 How to create a kahoot game for online quiz?
Its good for students of all ages to learn by playing kahoot games. Students can use their own devices to contact with the kahoot. What they are looking out is a screen with questions and options to answer. Then the students answer on their own device. The teacher or another student can run the game.
Lets go and find about how to create a kahoot game for your classroom.
Once you go to create.Kahoot.it and up there by clicking discover, you can find kahoot's by other teachers have made. So you can just enter the term in search bar appear and for example electricity and magnetism you get a lot of options there. You can click on them to find out what the questions look like and what the options look like and what images teachers have chosen. You can either play that or you can choose from the three dots to preview it. You can also duplicate it if you just want to make a copy and make some changes.
Creating a new kahoot
In order to create a bran new kahoot, lets say for quiz, we need to do the following steps:
Click on the create at top right corner.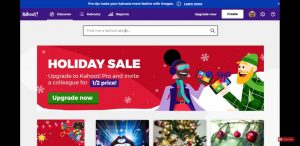 You will get the following window.
2. Click on quiz.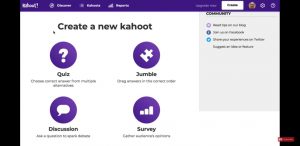 Then fill in the title with any name like "polygon.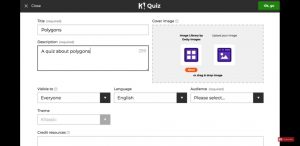 3. Then write down the description of fortnite.
4. Set its visibility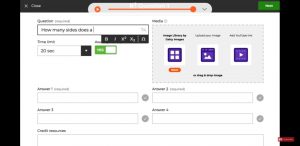 5. Select the audience (either for school or college).
You can then choose free image for your kahoot game relevant to the category you have selected.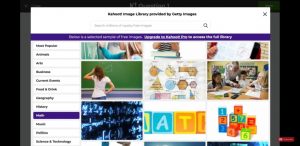 Nest step is to add questions. Like if I do enter "how many sides does a hexagon has?". After setting the question you need to enter some options here at least two. Then you need to mention the correct answer. You can also add some image to make it interesting. You can add your own image too.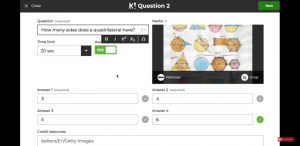 Down there when you enter that question, you can edit it, duplicate it or delete it. After duplicating, you can make little changes in it for converting it into a new question as shown below.
Also you will need to update the answer options again as per the right answer to the question.
Click on Next and look at the saved questions. Preview it Now you can see, you will get the options of two screens.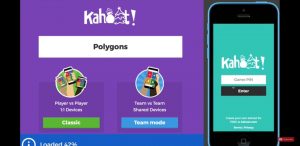 What the main screen looks like and what the students screen looks like. Students can go to kahoot.it and they enter the game pin and then they need to enter the nick name. It takes a couple of minutes when they see the first question and its options there.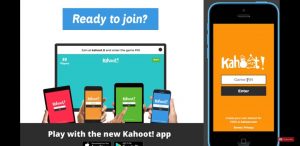 Since a lot of students might be attempting that quiz you can see their grades in the from of bar graphs. There is a podium layer and you can see the results.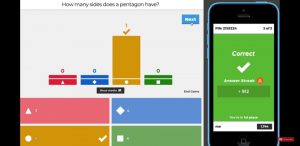 And here you go! In this way you can create any kahoot game for students.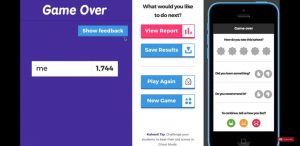 Also read here