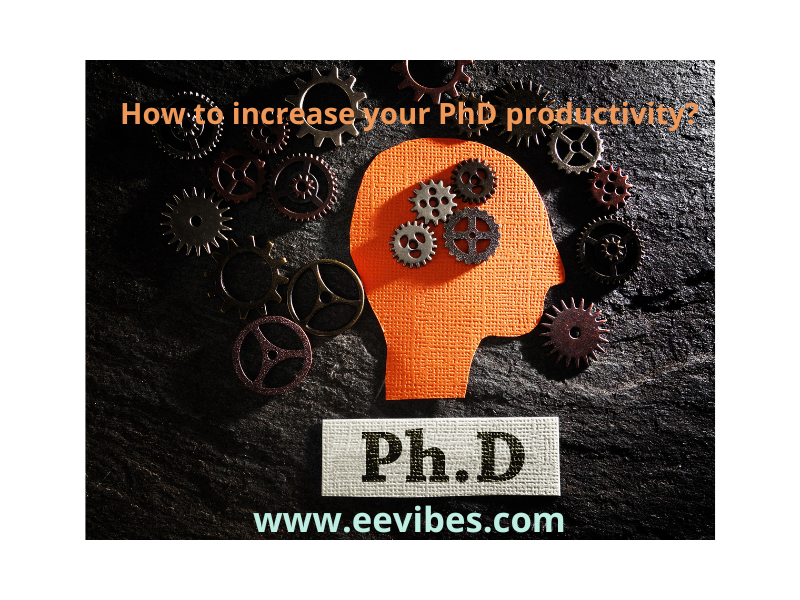 Tips for PhD students to increase their productivity
How to increase your PhD productivity? In this article I have explained how PhD students can increase their productivity so that they can get maximum out of their time.
Avoid using social media during the morning hours: Social media cannot be controlled. Whether or not we genuinely want to see the content, it appears as we scroll. Some of the content, like a terrible incident or something dreadful happening to a loved one, has a profound influence on us. You might not be effective for the remainder of the day if it occurs. Better to stay away from it in the first half.
Daily focus for at least four hours: Our minds do not always function at their highest level. But it does function intently for three to four hours. Make sure you put in at least 4 hours a day of focused effort. Disconnect from email, mobile devices, and other electronic devices so that you may focus on the most difficult task. But it shouldn't be 4 hours straight.
Save light work for the end of the day: Not all PhD projects require the same level of concentration. For instance, it doesn't take much mental effort to complete volunteer tasks for a conference, mark student submissions, or respond to several emails. When you are not being particularly productive, work on them.
Just start: PhD tasks are frequently put off. Don't put things off. Observe the five-second rule. Your brain starts pulling you away from the work if you don't jump toward it within the first five seconds. Just do it; everything is difficult before you do it.
Consider using Pomodoro: It's extremely useful when writing papers. Some pupils have demonstrated success using this method. Set a timer for 25 minutes, and only write during that period. Take a five-minute rest after the timer goes off, then resume playing.
Make notes: As a PhD candidate, you should be enthusiastic about concepts. You can get these concepts from a variety of sources, including meetings, conferences, and your own thinking. Keep them from flying away. Taking notes is simple, even on a mobile device. Make notes so you can think about them afterwards.
𝐃𝐨𝐧'𝐭 𝐥𝐞𝐚𝐯𝐞 𝐬𝐡𝐨𝐫𝐭𝐞𝐫 𝐭𝐚𝐬𝐤𝐬 𝐟𝐨𝐫 𝐭𝐨𝐦𝐨𝐫𝐫𝐨𝐰: Shorter jobs include emailing an agenda for a group meeting, responding to an email, and running your document via Grammarly. These jobs take 5 to 10 minutes. However, as you head home to end the day, you'll feel as though you've accomplished a number of things, giving you a sense of satisfaction.
Prevent toxicity: Some things, people, and things around you can be harmful. Your day can be ruined by a poisonous 5-second interaction. You may become demotivated and be unproductive the rest of the day as a result. Recognize them and stay clear of them.
Don't worry: Being anxious is common among PhD students. However, worrying doesn't solve anything; only taking the appropriate steps can. You must first extricate yourself from the anxiety bubble in order to take the appropriate activities. Your productivity will increase by double if you let go of your PhD fears.
There is no substitute for effort: if you put your heart and soul into anything, you will be rewarded. For PhD, the same holds true. Work ethic is usually rewarded. You will learn that it is difficult yet worthwhile after finishing a strong PhD.
Distinguish between working and thinking about work: Working is when you are being productive, such as when you are writing a paper, analyzing data, or putting together a presentation. When you are stressed but not working, you think about work. It merely gives the appearance of work. Work when it's time to work, and put work aside when it's time to have fun.
Identify and eliminate distractions: A PhD needs strong attention. Remove anything that enters your mind and causes you to get negatively distracted. This might be someone nearby, a social media site, or a particular pastime. When you are content and focused, you can perform effective research.
There is no such thing as perfection: PhDs must be finished within a certain amount of time. Don't wait for flawless results, whether they come from a paper, an experiment, or a presentation. Prepare it well, talk to your managers about it, then publish it by submitting it to a journal.
Nothing is ever going to be perfect: my PhD topic, my dataset, and the reviewers are all subpar. Recognize that nothing will ever be perfect. Be a champion; champions are those who triumph despite obstacles.
Appreciate small victories: In a PhD, success is frequently measured by a paper acceptance or thesis approval. There will only be 4-5 successful moments, then. So, where will you receive your motivation? You should be proud of even the smallest successes, such as successful experimentation, citations of your work, positive feedback on your concepts, etc.
𝐔𝐭𝐢𝐥𝐢𝐳𝐞 𝐲𝐨𝐮𝐫 𝐬𝐮𝐩𝐞𝐫𝐯𝐢𝐬𝐨𝐫𝐬 𝐭𝐨 𝐭𝐡𝐞 𝐦𝐚𝐱: Request specific comments from your managers. Learn how your paper draught or PowerPoint slides are modified. Clearly state your questions, such as "Should I utilize Method X or Method Y for Data Analysis and Why?"
 𝐏𝐡𝐃 𝐢𝐬 𝐩𝐚𝐫𝐭 𝐨𝐟 𝐲𝐨𝐮𝐫 𝐥𝐢𝐟𝐞, 𝐧𝐨𝐭 𝐲𝐨𝐮𝐫 𝐞𝐧𝐭𝐢𝐫𝐞 𝐥𝐢𝐟𝐞: Avoid overcommitting to your PhD activities. Maintain a proper equilibrium. Your PhD will benefit if you are content and healthy. So, smile and encourage others to do the same.